Notices
A345 Part Closure 27-29 Mar
More details
here
and
here
Litter pick-up rescheduled for Saturday 24 Mar
Parish Hall Management Committee
There are two new links for the newly-formed PHMC, one in Committees & Clubs/Parish Hall, the other in Parish Archive/documents/Parish Hall.
A345 Part Closure 26-28 Mar
More details
here
and
here
A345 Part Closure 15-17 Mar
More details
here
and
here
The latest Parish Council Annual and AGM Meeting Minutes are available. -
Follow the Parish Council link in Parish Archive/Documents.
Victim Support - Have you been affected by crime?
See the Poster
here
The latest Village Hall AGM and Meeting Minutes are available. -
Follow the Village Hall link in the Parish Archive.
Enford Church -
Find the PCC minutes and other church information
here
.
Enford Emergency Plan -
Read the Flood and Snow Emergency Plan for Enford
here
.
Defibrillator -
Read instructions for using the village defibrillator
here
.
The Hub -
Treat yourself to a cuppa, a delicious slice of cake and a cosy fireside chat with your neighbours at 'The Hub'. Open at The Swan, every Thurday from 9.30am to 11.30am.
Village Hall Online Booking -
Provisional bookings for hire of Enford Village Hall can now be done on line. To make a booking, visit the bookings diary
here
Need A Lift? -
Do you need a lift to come to events or clubs in the Village Hall? If you don't have transport or are worried about coming on your own, please call 01980 670501 or 01980 670345 or email
enfordvillagehall@btinternet.com
and we will try and arrange for someone to pick you up and take you home.
Links
On This Page
If you would like to publish any of your own photographs on this website then email them to me by clicking here. If the photos are of people, please ensure you have obtained their permission to publish them on the internet before you send them in. If you are interested in photography, why not join the Camera Club.


| Submitted By | Subject | Links |
| --- | --- | --- |
| Steve Becker | In and around Coombe Lane | Mile Ball (Winter 2000), Coombe Hill (Winter 2000), Coombe Lane at Dusk (1), Coombe Lane at Dusk (2), Coombe Lane at Dusk (3) |
| Jeni Scott-Dalgleish | New Village Hall | Hall(1), Hall(2), Hall(3), Hall(4), Hall(5) |
| Martin Webb | Enford and surrounding area | Chisenbury Warren, Snow near East Chisenbury, Sunrise from Enford Down, Frosts on Salisbury Plain, Rainbow Bottom Morning Mist |
| Richard Ford | Enford | All Saints Church in the Snow |
| Camera Club | Enford and surrounding area | Autumn (Jane Young), Swan on the Avon (Sue Vergette), River Avon (David Spencer), Moon over Enford (Martin Webb), Figheldean Footpath (Sue Vergette), Conkers (Martin Webb) |
| Camera Club | Doors & Windows | Jeni Scott-Dalgeish (1), Jeni Scott-Dalgeish (2), Jane Young, Anthony D'Arcy-Irvine, Sue Vergette, Richard Roberts, Mort Burdick (1), Mort Burdick (2), Martin Webb |
| Martin Webb | Enford Then & Now | Slideshow |
| Steve Becker | The Plain In Winter | From Sidbury Hill, Coombe Hill Plantation |
| Mandy Farrow | Summer Fete 2012 | Football Avondale, Football Figheldean, Football Netheravon, Football Rushall, Olympics 1, Olympics 2, Olympics 3, Olympics 4, Olympics 5, Olympics 6, Olympics 7, Olympics 8, Olympics 9, Olympics 11, |
Coming Up
Visit the Enford
calendar
, or read the latest newsletter, for details of all forthcoming events. Click the images below to see what's on in the Village Hall:
Pre-Easter Film Show - Thu 15 Mar - The Gospel of Mark sponsored by the Avon River Team and Enford Village Hall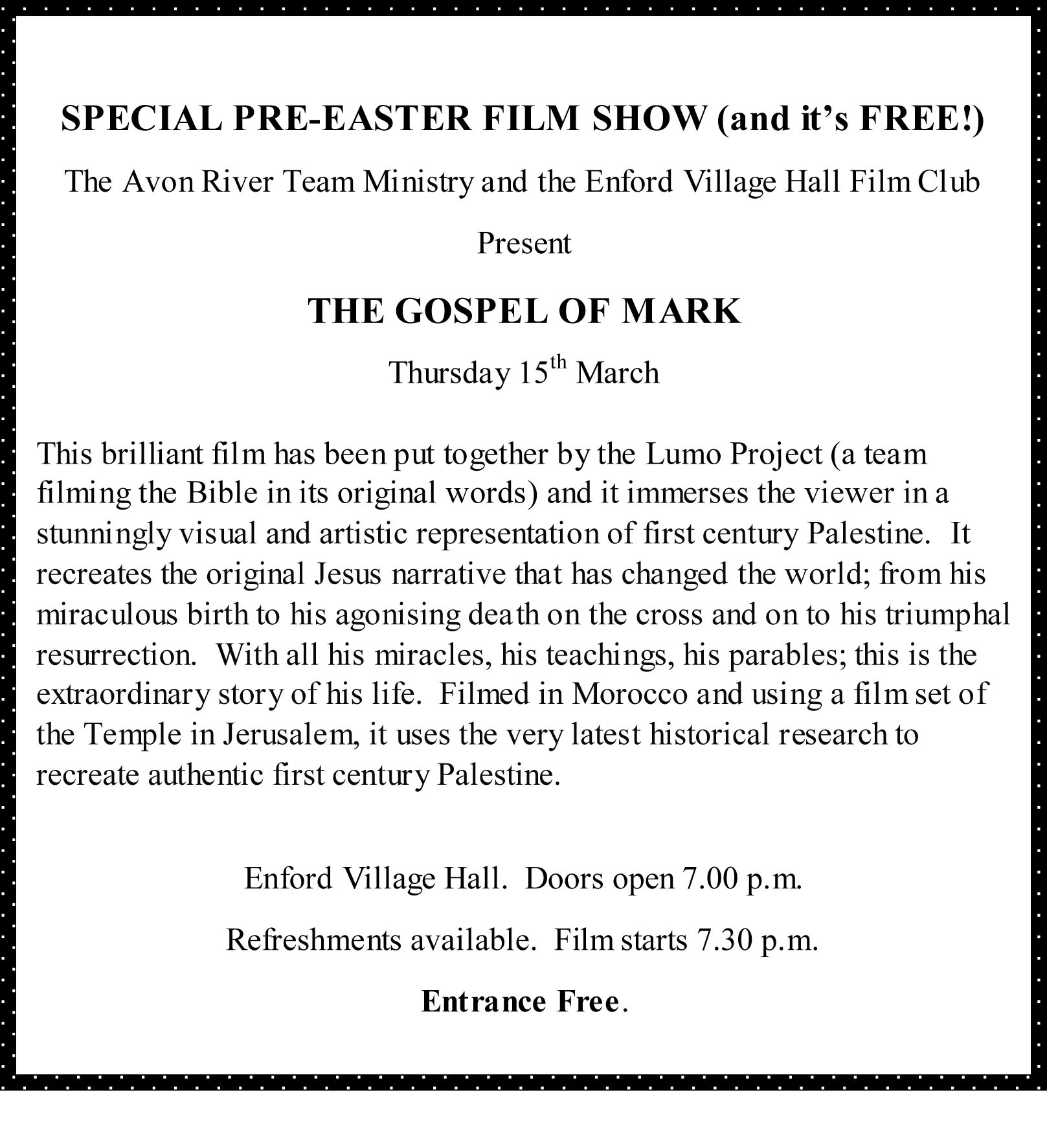 Film Night - Tue 24 Apr - Murder on the Orient Express starring Kenneth Branagh, Penelope Cruz, Willem Dafoe