Notices
Wheelie Bin Speed Awareness Stickers will be available from the Parish Council, click on this link to read more!
here
Interested in different walks in Wiltshire? Click on this link to read more!
here
Are you feeling overwhelmed, struggling? Home-Start Kennet can help, click on this link to read more!
here
Information about the Wiltshire Surviving Winter Grant is available from AGE UK, click on this link to read more!
here
Salisbury District Hospital has an urgent need for volunteers, click on this link to read more!
here
The Enford Village Hall has published an update on its use, click on this link to read more!
here
The Enford Parish Council now has their own dedicated website at "www.enfordparishcouncil.gov.uk" and due to the EU GDPR their data will be removed from the Newsletter website.
Find their website
here
or in the Links section below.
Preliminary information on the March 2021 Census, click on this link to read more!
here
Latest Update on the Royal Artillery Museum Proposal, click on this link to read more!
here
Wiltshire Council has set up a dedicated hub to support the most vulnerable residents during the ongoing COVID-19 situation, click on these links to read more!
here
and
here
Film nights, clubs, classes and private events at the Village Hall have been cancelled until such time as restrictions are lifted.
Click on this link to read more!
here
Information from Wiltshire Council on the Coronavirus, click on this link to read more!
here
Neighbourhood Watch Launches New Web Site!
Our new website is up and running and you can access it at www.wiltshirenhw.org. Follow the Neighbourhood Watch link in Committees & Clubs.
The latest Village Hall Annual and AGM Meeting Minutes are available. -
Follow the links in Parish Archive/Documents.
Victim Support - Have you been affected by crime?
See the Poster
here
Enford Church -
Find the PCC minutes and other church information
here
.
Enford Emergency Plan -
Read the Flood and Snow Emergency Plan for Enford
here
.
Defibrillator -
Read instructions for using the village defibrillator
here
.
The Hub -
Treat yourself to a cuppa, a delicious slice of cake and a cosy fireside chat with your neighbours at 'The Hub'. Open at The Swan, every Thurday from 9.30am to 11.30am.
Village Hall Online Booking -
Provisional bookings for hire of Enford Village Hall can now be done on line. To make a booking, visit the bookings diary
here
Need A Lift? -
Do you need a lift to come to events or clubs in the Village Hall? If you don't have transport or are worried about coming on your own, please call 01980 670501 or 01980 670345 or email
enfordvillagehall@btinternet.com
and we will try and arrange for someone to pick you up and take you home.
Links
On This Page
The recently re-built Enford Village Hall, situated in the heart of the Wiltshire countryside, is an ideal venue for both public and private functions, club activities, film shows, sports events, fetes and many other types of event.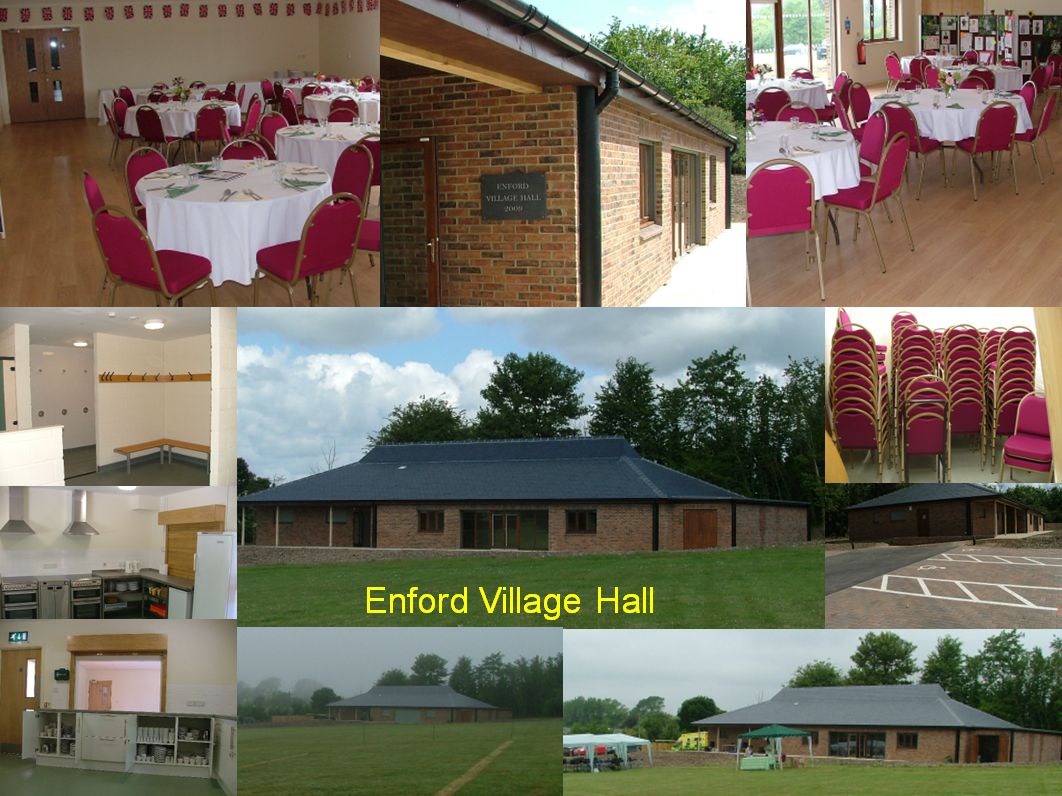 This spacious building is complete with main hall, conference room, kitchen facilities, toilets, showers and changing rooms, and is fully furnished with tables, chairs, crockery and cutlery. There is also ample parking, and the hall opens out onto a nicely secluded sports field.

Where Are We? Enford village hall is located by the playing fields at the southern end of the village, on the C32 (SN9 6DD). Directions are here.

Information If you would like further information please contact Judy D'Arcy-Irvine (01980 670501) or David Spencer (01980 670526) or download a booking form here. Click these links to see terms and conditions, hire charges and arrangements for using the hall. See also our entry in the Wiltshire Village Halls Association database.

Village Hall Committee The village hall is managed by an elected committee. Links to minutes of the committee meetings, and associated documents, are on the archive web page.

What's On? Public events, and private bookings, are shown on the events webpage, and club activities are listed here. If you are thinking of holding a private party or event at the hall, contact a member of the committee as soon as you can to check the availability of your preferred date.

Private Parties The Village Hall is the perfect venue for Weddings and special Anniversaries or Birthdays. It is also ideal for Childrens' Parties and Christening Celebrations - or for any other excuse for a celebration!

Donations If you would like to make a donation to the Village Hall, then we would be grateful if you could do so using the gift-aid form here. The form can be returned to any of the village hall committee members, for attention of the Treasurer.
Coming Up
Visit the Enford
calendar
, or read the latest newsletter, for details of all forthcoming events. Click the images below to see what's on in the Village Hall: